Nowadays, i realise the guys out there in the cyber world is getting more and more retarded.
Ladies ~ feel the same? Received retarded pms? Chats? Request? Feel that they are uneducated LOSERS? ( i received ALOT ! )
This type is already very common to me & i receive it almost every day. ( SIAN ALREADY )
BEHOLD ! this is the king of rubbish ! :D
This one is particularly retarded. I mean WHY WOULD YOU WANA LET SOMEONE COME UR HOUSE WHEN YOU DONT EVEN KNOW HIM/HER. ( when i say dont know, i meant TOTALLY never talked before kind. YES! NOT even online ! )
*note: there are more after i finish screenshoot* but i lazy to spend so much time on retard.
He continue replying with "he MISS my body" - WTFZX x 1000
than " i want to fuck you " - DREAM A MILLION YEARS.
HI KID ! Chinese New Year is NOT A GOOD excuse for you TO KNOW GIRLS AND FOR GOD SAKE PLEASE GO TAKE A GOOD LOOK AT UR FACE FIRST ! IF you dont have a mirror, PLEASE PEE AND TAKE GOOD LOOK AT UR FACE ! HOLY SHIT !
And please. YOU ARE SO BIG SIZE AND YOU CALL URSELF BABY ? wait wait ! HOLD ON! is that EVEN A FACE !? -_- OMFG !
AND WHATS MORE RIDICULOUS ? i show you all~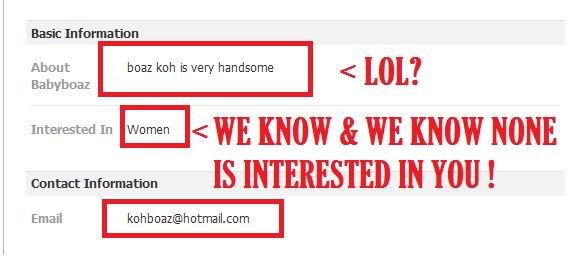 p/s : i do not anti *ugly* people because beauty is in the eye of the beholder but this one is really *shake head*
CANNOT MAKE IT LOR ! i pity the cute lil girl though. D:
AND please dont be childish ? WHATS with using or creating new account than msging rubbish like this ?
LOL .
& than he sore loser because no one is helping him and started saying all my facebook friends is ugly ? WAH LAO EH ! WHAT JOKE IS THIS !

Than he starts with threathening ? WOW! i dont give a shit. (:

Loser's spamming my facebook now with lousy english. Retarded.

Tooth ache'ing badly. imma going rest ! (: bb !!!!!!